It can be easy to forget the importance of having an asthma action plan — particularly if your asthma is normally controlled. However, recent freak weather events such as thunderstorm asthma have made it even more vital for all suffers to have an up to date asthma plan in place.
According to the National Asthma Council, asthma plans are one of the most effective interventions available. Successfully following a written asthma plan is your best weapon in protecting your lung health, and managing your symptoms, resulting in fewer asthma attacks, reduced sick leave, reduced medication use, and a reduction in hospital visits.
As far as what your asthma plan should include, your regular GP will be able to assist you in putting this together. Ideally, an asthma plan will be personalised to suit your specific condition and needs. It should contain a list of any medications you use to treat your condition, a list of known triggers, how to recognise the development of early symptoms, and the best way to manage an attack should it occur. It's also important to remember that this plan is only effective when it's up to date! Therefore it's recommended that you update your asthma plan with your doctor every six months to ensure the information is current.
However, simply putting together a plan, and shoving it in the back of a draw with the rest of your papers won't be enough to help your symptoms, or prevent unnecessary attacks. Ideally your asthma plan should go wherever you do. So make sure the people around you can easily access a copy, and that you've provided your workplace or school with your action plan.
Scroll to see a sample Asthma action plan below, and make an appointment with your GP to update or put together an asthma action plan today.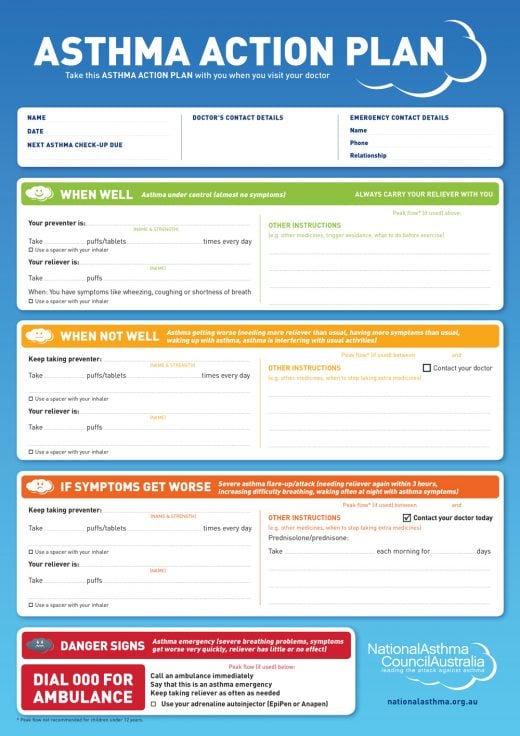 Image Sources: iStock, National Asthma Council and POPSUGAR Photography / Paul Kabata